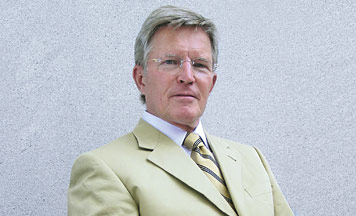 Frithjof E. Müller
Consultant

Dipl. Ing.
Patentanwalt
European Patent Attorney
European Trademark Attorney
European Design Attorney
Contact:
mail@mhp-ip.com
Frithjof E. Müller graduated as electrical engineer (German Dipl.-Ing.) from the Technical University of Stuttgart with a specialization in high frequency and data processing technologies. His particular interests in data processing naturally lead to his engagement regarding software protection as former chairman of the Software Committee of the German Patent Attorneys Bar Association. His technological expertise further includes a deep and profound knowledge in electronics (e.g. circuit design, signal processing) as well as in communication/information technologies (IT).
Mr. Müller started his career in the area of Intellectual Property protection with management training at a large German company.
He soon became head of the patent department branch before becoming German Patent Attorney in 1971 and European Patent Attorney in 1978. Before founding the law firm MÜLLER • HOFFMANN & PARTNER, Mr. Müller founded another successful IP Law Firm in Munich.
Mr. Müller has a wide experience of IP advocacy. During his regular visits of clients in the U.S. and Asia (mainly Japan and recently China), he has lectured on many IP topics.