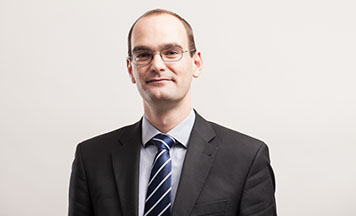 Dr. rer. nat. Johannes Held
Partner

Dipl.-Phys.
Patentanwalt
European Patent Attorney
European Trademark Attorney
European Design Attorney
Contact:
mail@mhp-ip.com
After his studies in Heidelberg and his following Ph.D. at the Max-Planck-Institut for Physics and the Ludwig-Maximilians-University in Munich, Dr. Held joined MÜLLER HOFFMANN & PARTNER in 2012. Due to his broad technical background, Dr. Held is able to familiarize himself efficiently and thoroughly with highly complex problems and to provide tailor-made solutions.
He applies his expertise at prosecution and drafting of patent applications in various technical fields such as electronics, information and telecommunication technology, software, mechanical engineering, mechatronics, semiconductor physics, and medical technology. Dr. Held is in particular focused on the fields of standard essential patents in the field of telecommunication and on computer implemented inventions.
Dr. Held is very experienced in conducting oral proceedings and acts in opposition, infringement, and revocation actions. Dr. Held is admitted to the European Patent Office, the German Patent and Trademark Office, the European Union Intellectual Property Office, the German Federal Patent Court, and the Supreme Court for nullity proceedings.
Dr. Held offers his experience in particular to domestic medium-sized companies as well as to large international companies. He supports medium-sized companies as "external department for intellectual property" in a cost efficient manner from drafting of applications up to legal disputes.