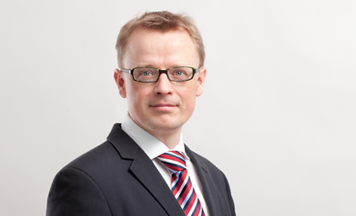 Dr.-Ing. Nils Jensen
Partner

Dipl.-Phys.
Patentanwalt
European Patent Attorney
European Trademark Attorney
European Design Attorney
Contact:
nils.jensen@mhp-ip.com
Dr. Jensen has been working in the IP field since 2004. The technical focus of his work lies in the field of electronics including all kinds of semiconductor related topics, software and telecommunications. Further, Dr. Jensen has gained experience in opposition, nullity and infringement proceedings when representing multinational operating clients in standard essential patent and LCD cases. Besides, Dr. Jensen also handles many prosecution cases in the electronics and telecommunications field.
Dr. Jensen's technological background is based on a degree in physics (German Dipl.-Phys.) from the University of Stuttgart in 1997 focusing on solid-state physics. Further, Dr. Jensen holds a Ph. D. (German Dr.-Ing.) from the Department of Electrical Engineering and Information Technology of the University of Stuttgart. The topic of his thesis was the production, characterization and modeling of hetero-structure solar cells based on amorphous and crystalline silicon. During this study, Dr. Jensen broadened his expertise in the field of semiconductors, accompanied by a research fellowship at the National Centre for National Science and Technology in Hanoi, Vietnam. From 2001-2004, Dr. Jensen worked for a large German semiconductor company (Infineon Technologies) as a development engineer. He was responsible for the development of protection devices against electrostatic discharge (ESD) as well as the consulting expert for circuit designers regarding ESD protection on IC level. His work resulted in several patent applications.
Dr. Jensen has been admitted to the European Patent Office, the German Patent and Trademark Office, the German Federal Patent Court and the German Supreme Court for nullity proceedings. He is also a registered European Trademark and Design Attorney and member of VPP and FICPI.