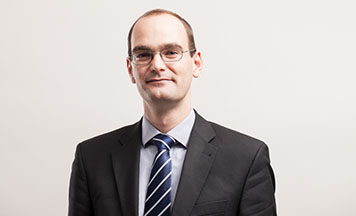 During his study of physics in Heidelberg, Dr. Held acquired a broad physical knowledge, which enables him to prepare substantiated expertise on different technical fields such as electronics, information technology, software, mechanical engineering, mechatronics and semiconductor physics.
After his studies in Heidelberg, Dr. Held followed up on his Ph. D. from 2009 to 2012 at the Max-Planck-Institut for Physics and the Ludwig-Maximilians-University in Munich in the field of string theory – located at the borderline between physics and mathematics.
Dr. Held joined MÜLLER HOFFMANN & PARTNER in 2011, where he applies his analytic capabilities at prosecution and drafting of patent applications. Dr. Held is in particular focused on the fields of semiconductor physics and computer implemented inventions. Further, Dr. Held supports the MHP-Team in infringement and revocation actions. In 2015, Dr. Held successfully passed the patent attorneys examination.